Goji Berry Extract, also Named Wold berry Extract Powder is extracted from the raw material Dried wolfberry fruit.
The Main Ingredient is Polysaccharides
Botanic Source: Dried wolfberry fruit
Latin Name: Lycium Barbarum L
Original Place: Ningxia of China
The Main Function is diminish inflammation, protect the Liver, Useful to Eyes
Specification:
Appearance Brown Fine powder
Odor & Taste Characteristic
Extract Solvent Water and ethonal
Mesh Size 80Meshes
Ash content ≤5.0%
Loss on Dry ≤5.0%
Heavy Metal ≤10ppm
As ≤1ppm
Pb ≤2ppm
Residue of Pesticide ≤2ppm
Assay: Polysaccharides: 40%, 50%, 60% UV
Package: Pack in double Plastic Bags.
Storage Store in a well-closed container away from moisture.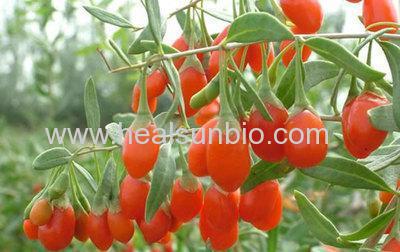 Goji Extract is good at liver and kidney, dispel eyestrain, and improve eyesight, invigorative.
Goji Berries have been used in the treatment of kidney and liver problems. They are also used to lower cholesterol, lower blood pressure, and cleanse the blood. Goji Berries have a long history of use in the treatment of eye problems, skin rashes, psoriasis, allergies, insomnia, chronic liver disease, diabetes and tuberculosis. Goji Berries are used to increase longevity and as a general health strengthening tonic.