[Product Name]:Cat's Claw Extract
[botanical Name]: Uncarian Tomentosa
[Appearance]: Fine Yellow Brownish Powder
[Odor]: Characteristic
[Taste]: Characteristic
[Particle Size]: 80 mesh
[Loss on drying]: NMT 5%
[Ash]: NMT 5%
[Heavy Metals]: NMT 10ppm
[Specifications]: 1%~10% alkaloids; 10:1/ 20:1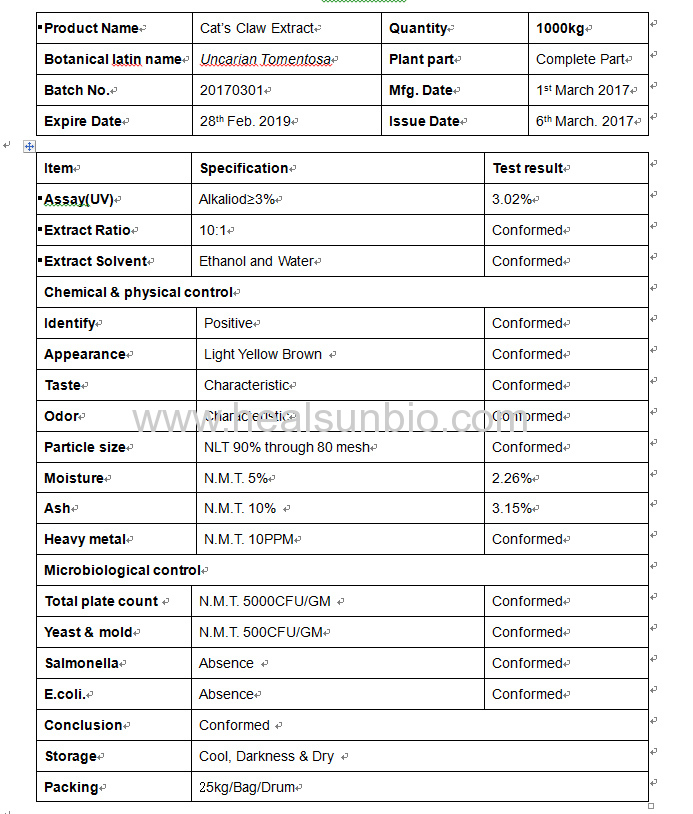 The active substances in Cat's Claw are alkaloids, tannins and several other phytochemicals. Some of the alkaloids have been proven to boost the immune system. The major alkaloid rhynchophylline has anti-hypertensive effects and may reduce the risk of stroke and heart attack by lowering blood pressure, increasing circulation, reducing heart rate and controlling cholesterol. Other constituents contribute anti-inflammatory, antioxidant and anticancer properties. Many treatments combine the Plant with different plants and natural products to increase the absorption and bioavailability. Cat's Claw has long been used as a homeopathic treatment for intestinal ailments. By stimulating the immune system, it can also improve response to viral and respiratory infections.
Function:
(1) Cat's claw p.e. has effect on arthritis and rheumatis.
(2) Cat's claw p.e. has the function of a nti-oxidant, detoxication and anti-inflammation.
(3) Cat's claw p.e. can promote healthy blood pressure levels, slow the heart rate, relax and dilate peripheral blood vessels,lower blood cholesterol levels, restrict platelet aggregation (clotting), and help prevent heart problems and arteriosclerosis.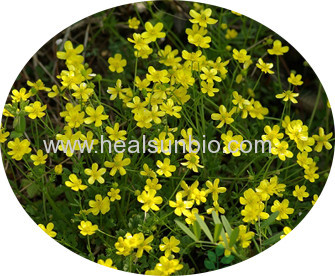 The Recommend products: