Product Sheet of Echinacea Extract Powder
Echinacea purpurea is a kind of native to North America and Canada echinacea plant, as early as the 17th century, native Americans has used echinacea purpurea to treat a cold, toothache, snake bites and other injuries. Introduced to China around 1995 and cultivate produce in widely.
Today, Echinacea is used widely all over the world to encourages the immune system and reduces many of the symptoms of colds, flu and some other illnesses, infections, and conditions.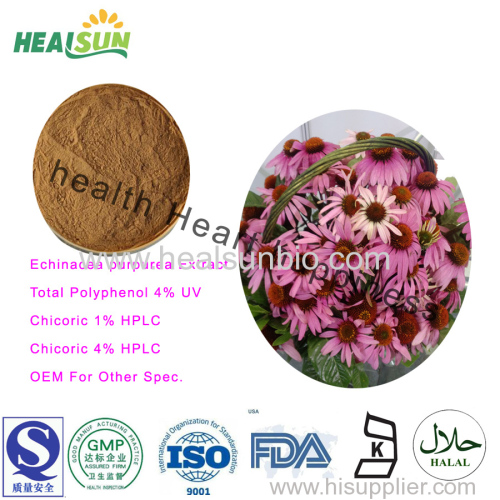 Specification of Echinacea Extract Powder
Product Name: Echinacae Extract
Latin Name: Echinacae Purpurea L
Active Ingredient: Polyphenols, Chicoric Acid
Appearance: Yellow-Brown to Light Green powder
Part Used: Part on the ground
Extration Solvent: Ethanol & Water
Test Method: UV/ HPLC
Toxicity :Non toxic
Shelf life: Min. 2 years at room temperature
Packaging : 25 KG/ Drum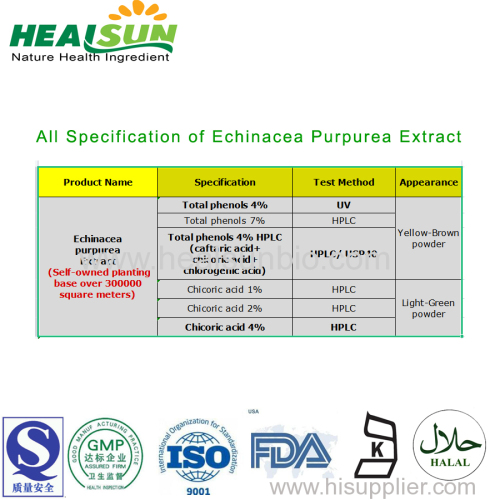 Health Benefits of Echinacea
1) Echinacea May Reduce Symptoms of the Common Cold
In a study with 282 patients (DB-RCT), echinacea taken at the first symptom of a coldreduced the severity of the symptoms. Different clinical trials on the use of echinacea indicate that echinacea may either help or have no effect on the treatment of colds .One analysis found that echinacea extracts help prevent colds and shorten their duration (1.4 days) .
2) Echinacea Improves the Immune Response
Echinacea promotes overall immune function by reducing inflammation and infectious diseases .Echinacea extract increases the number of circulating white blood cells (lymphocytesand monocytes) in mice and rats.
In a study of 6 adults treated for 3 days, echinacea extract reduced inflammation and increased production of molecules (IFN-alpha) that fight infection .
3) Echinacea Improves Skin Problems
In cells, echinacea inhibited collagen breakdown by free radicals. It also aided in wound healing (cicatrizing) after topical application in rats. This is attributed to its antioxidant activity and ability to reduce skin irritation (inhibition of hyaluronidase).
Echinacea can aid in the treatment of acne by inhibiting the growth of the bacteria P. acnes and limiting inflammation.
In 49 patients, treatment with echinacea for 3 months (DB-RCT) helped improve the symptoms of atopic dermatitis (redness and swelling) .
Echinacea May Reduce Inflammation,
Echinacea extracts had an anti-inflammatory effect in rats after both topical and oral use.
Echinacea extract decreased airway inflammation and expanded air passages in guinea pigs, having an effect similar to salbutamol .
Echinacea decreases inflammation through the inhibition of pro-inflammatory molecules and by binding to the can-nabinoid receptor (see Mechanism for more details). This does not necessarily help fight infections but can help reduce the symptoms of infection.
Echinacea Fights Infection, Fights Infection
Echinacea Has Antiviral Activity. In multiple cell studies, echinacea had antiviral activity against herpes simplex, rhinoviruses, human, avian, and swine influenza viruses. Echinacea is not effective against viruses once they have entered the cell.
In dog kidney cells, echinacea extract also prevented the influenza A virus from binding to cells, preventing the virus from entering.
How Echinacea Purpurea Extract works?
Echinacea has a complex mix of active substances, some of which are said to be antimicrobial, while others are believed to have an effect on the human immune system.
All species of this herbal remedy have compounds called phenols. Many plants contain phenols, active substances that control the activity of a range of enzymes and cell receptors, and protect the plant from infections and ultraviolet (UV) radiation damage. Phenols have antioxidant properties, which may be good for human health.
Echinacea also contains alkylamides or alkamides, (not in Echinacea pallida), which have an effect on the immune system, as well as polysaccharides, glycoproteins, and caffeic acid derivatives.
Product Name

Specification

Test Method

Appearance

Echinacea
purpurea
Extract
(Self-owned planting base over 300000 square meters)

Total phenols 4%

UV

Yellow-Brown powder

Total phenols 7%

HPLC

Total phenols 4% HPLC
(caftaric acid+
chicoric acid+
chlorogenic acid)

HPLC/ USP40

Chicoric acid 1%

HPLC

Light-Green powder

Chicoric acid 2%

HPLC

Chicoric acid 4%

HPLC