RED BEET EXTRACT POWDER
For Sweeter & Colorant
Main Active Ingredient:
Protein: 1.2g/100g
Niacin: 0.21mg/100g
Dietary Fiber: 6.3mg/100g
Vitamin C: 8.1mg/100g
Vitamin E: 1.82mg/100g
Calcium: 57mg/100g
Phosphor: 19mg/100g
Fe: 1.2mg/100g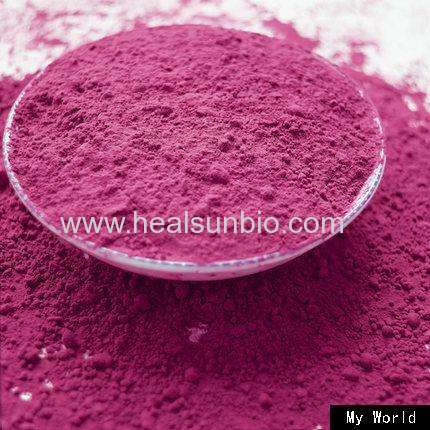 Specification:
Appearance: Dark Red fine Powder
Odor: Characteristic aroma of Red Beet
Taste: Proper Taste of Red Beet
Mesh Size: 80Mesh
Moisture: ≤8.0%
Ash: ≤5.0%
Impurity: Negative
Package: Pack in double Plastic Bags.
Storage Store in a well-closed container away from moisture.
Red Beet extract Powder isextracted from the raw material Red Beet which is Planted in an organic Environment without any anti-biotic and pesticide residue. It contains Plentiful of Body necessary Mineral such as Fe. Ca. and most kinds of Vitamin, and carbohydrate. Thus, Red Beet Powder is a Nutrition Supplement for human Body needs.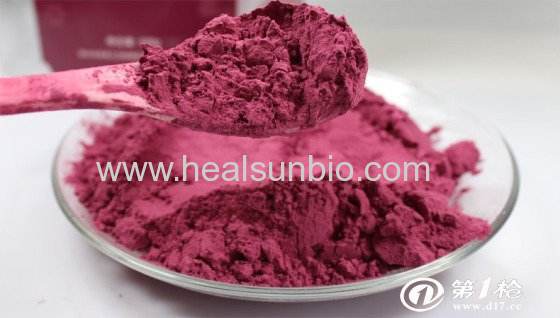 Main Function:
1. Red Beet taste sweet, sexual flat to cool slightly, It adjust the digest system, make Better appetite and quicker absorption.
2. It also with the Function of relieving cough and reducing sputum.
3. Red Beet is used to make the kidney smooth. Such as emiction.
4. clearing heat and removing toxicity is another function of red beet.
5. inChinamedicine, Red beet also with the function of beauty, lower blood pressure, blood lipid, blood sugar, Hair Nutrition etc.