Product Name: Bee Venom Powder
Also name Lyophilized bee venom Powder
Pharmaceutical Grade
Protein 76%
Water solule Substance 76%
PackageL 5G/Vial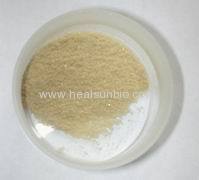 The Bee venom powder is produced from nature bee Venom.
The Nature bee venom is the liquid got from the work bees.
Bee venom is rich in Protein and water soluble mineral substances and amino acids. The main health benefits is to expelling wind and removing dampness and relieving pain for human body. Thus it can be used for rheumatoid arthritis, lumbar muscle pain, neuralgia, hypertension, urticarial etc. Now it is also widely used in cosmetic field to nourish skin and anti-wrinkle.