Lycopene, the major red pigment of tomato, is a common carotenoid.Carotenoids are natural fat-soluble pigment found principally in plants, algae, and photosynthetic bacteria, they play a critical role in the photosynthetic process there.
Product Name: Lycopene Powder
Specification:
Lycopene Powder: Form 6% to 70% HPLC, Normally, 5%, 6%, 10% in Powder
Lycopene Oil:Form 6% to 20% HPLC, Normally, 5%, 6%, 10% in Viscous Liquid.
Water soluble Lycopene: Crystal Powder or Beadlets.
Total Lycopene: 6.0%
Trans-Lycopene 90.0%
Total fatty acids: 65%

Appearance:Purple to Purplish powder
Moisture: ≤5%
Sulphated Ash: ≤3.0%
Heavy metals ≤2.0mg/kg
Pesticides ≤2.0mg/kg
Total plate count ≤1000cfu/g
Yeat & mold ≤100cfu/g
Salmonella: Negative
E. Coli: Negative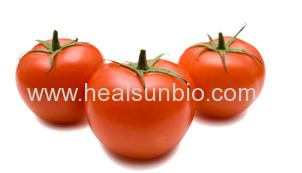 Function:
Anti-aging
Antioxidant
Cancer prevention
Cellular regeneration
Cervical disorders
Detoxifying
Eyesight disorders
Immune system disorders
LDL Cholesterol Oxidation, Lung Disease