Product Name The Panaxatriol Saponins
Latin Name in Botany Panax ginseng C.A. Meyer
Family Araliaceae
Genus Panax
The Used Part Leaves
Plant Original China
Introduction
The main components of ginseng are ginsenosides. Our scientists have separated 39 kinds of ginsenosides from ginseng. Ginsenoside can anti-aging and increase the memory capacity of the elderly. The Panaxatriol Saponins contain ginsenoside Rg1, Rg2, Rf, Re, and Rh1, which can reduce the content of free radicals in the body.
Character: Light yellow or off-white powder
Available specification:
Rg1+Re>50%HPLC

Rg2 >45%HPLC
Rh1>20%HPLC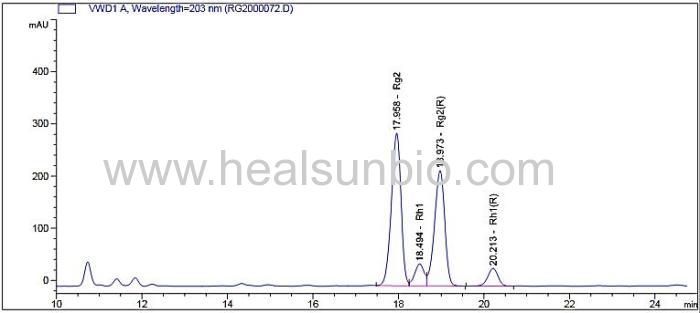 Pharmacological function:
1. Ginsenoside-Rg1 plays a big part in the quick recovery from fatigue; Improves learning-memory, anti-aging, excited central nervous, suppress platelet aggregation.
2. Ginsenoside-Rg2 can help anti-shock, improve myocardial ischemia and hypoxia, and it has big effects in treatment and prevention of coronary heart disease.
3. Ginsenoside-Rf can suppress central nervous system; weaken intestinal contraction; and ease arrhythmia, balance blood pressure; effect in anti-fatigue and hemolytic activity.
4. Ginsenoside-Re can against platelet aggregation, the release and thrombus formation.
5. Ginsenoside-Rh1 can promote the proliferation of liver cells, promoting DNA synthesis; and can be used for the treatment and prevention of hepatitis, cirrhosis of the liver.
Applications: Pharmaceutical raw materials, Food for health care