Product Name:Ginseng Leaves Extract Powder
Batanical Name:Panax ginsengC.A.Meyer
Specification: Ginsenoside 80% UV
Ginsenoside 45%HPLC
Used Part: leaves
Extract Solvent: water & Ethanol
Specification Detail:
Appearance: Yellow-White powder
Odor & Taste: Special Ginsenoside aroma, bitter taste
Mesh Size: 100Mesh
Moisture: 4.0%
AshContent: 5.0%
Sulphated Ash: 1.5%
Water soluble: 100% Soluble in Water
Assay: Re: Higher than 20%
Total Ginsenoside: 80%(UV)
Heavy Metal: Less than 10PPm
Pesticide Residue: BHC+DDT+PCNB Less than10PPb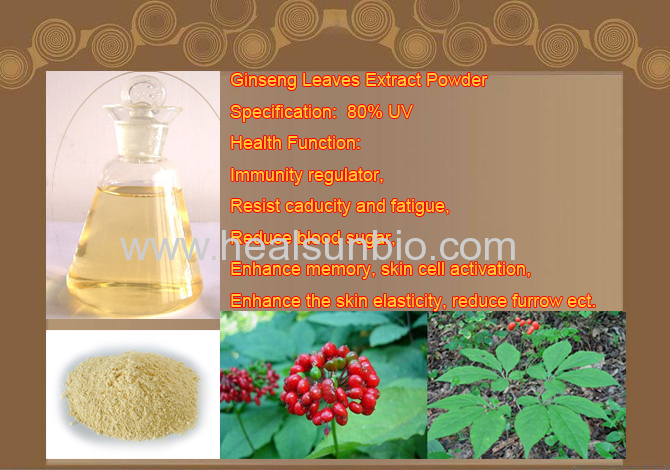 Ginseng leaves Extract Powder, Mainly Active ingredient is Ginsenoside.
Ginsenoside was extracted and refined from the culm and leaf of panax ginseng C.A. Mey. The main ingredients are ten kinds of oside monocase of Re, Rg1, Rg2, Rd, Rc Alcohol. Total ginsenoside content is More than 80%(UV Method), also can reach 50% under the HPLC Method.
Main Effection: Ginsenoside is immunity regulator, can resist caducity and fatigue, reduce blood sugar, enhance memory, skin cell activation, enhance the skin elasticity, reduce furrow ect.